Just when we thought we are done with social media sites, another one which seems to be doing so well against all odds has joined the social media arena.
Going by the way people are talking, Pinterest is proving to be very popular with most folks. The word is, pinterest is dangerously addictive and if you are not careful you can easy waste all day on the site.
Time and time again, we have talked of how images pivotal role in online marketing. Both still and moving pictures have a unique way of communicating to audiences. The reason behind this fact is because there are some things that are better said in imagery than in text.
As we speak, pinterest has over 3 million subscribers who have registered through facebook alone and the number is increasing fast. Now employers have another mountain to climb, apart from blocking employees spending endless hours on facebook and twitter, they now have to find a way to prevent them from wasting more time on pinterest.
If you are not aware, Pinterest is a new social bookmarking site where users can "pin" (share) images collected from different websites. The images are arranged in different categories known as boards.
The power of social media is in the ability to connect with other like minded people. On this new site you can follow other people in your niche, distribute content, post comments and tag.
To crown it all, the people following you will get your updates immediately you update your profile. Another bonus of pinterest is the ability to share your pins on facebook, twitter and Google +.
In case your target audiences are the type of people who are moved by imagery, then you better head to pinterest right now and register an account. Though not so many people are register as of now, by the look of things many businesses will be rushing there to see if they can acquire new customers.
Experts who have profiled the behavioral patterns of the people on pinterest say that most people visiting the site are maybe about to get married thus searching for the perfect wedding dress, looking for a house to buy or searching for the latest fashion trends.
This is an indication that pinterest is a site that influences people to make decision on what to purchase. Hence, a captivating image will elicit clicks from potential customers who you can easy turn into loyal customers.
The power of pinterest pins is the ability to combine both sharing and visual content to capture your audience. Here is how pin pinterest works.
Reasons why Pinterest is important to online business promotion:
* Generate quality backlinks: This is what SEO experts are smiling about every time pin pinterest is mentioned. Anytime someone decides to pin an image from your site on their board, the link to your webpage is automatically picked.
This means that the people who will be clicking on the image that contains your link will be directed to your site. It also means that as people share the image, they will be spreading your link thus helping you to build your link popularity naturally and that's what search engines love.
* Social mentions: The more interesting images you post on your board the high the chances that people will talk about your pins. With time you will have people discussing about your images and website on pinterest as well as facebook and twitter.
As you all know, search engines are moving towards ranking sites using social signals. Therefore, you need to rush to pinterest and post intriguing images that will increase your social mentions and it will not take long before you appear on page 1 of Google, Bing and Yahoo.
Note: If you want to know if people are pinning your content enter this in your browser: http://pinterest.com/source/yoursitename.com/ (replace "yoursitename" with your web address)
Branding: Are you trying to build an online brand name? Then you better head to pinterest this very minute. In case you have people on pinterest who adore your products, they will help you by pinning your images on pinterest.
It will not take long before you have a loyal fan base thus build a name for business and products.
Get online visibility: Google talks of leveling the playing field all the time but they need to pick a leaf from how pinterest does it. If you search for a phrase like mobile phones in the top search engines, you are more likely to see the big brands featuring on the first page.
That is different on pinterest since the search results keep rotating depending on what has been posted. This means that small home based business can find their products on the first page of pinterest.
Are you looking for new products, fashion trends and companies? Then the place to head is Pinterest. This is not the same on search engines since the big brands have dominated most of these top quality keywords.
I believe that there are small and upcoming brands that have new and better ideas but they get very little attention from search engines. But on pinterest where the results keep changing every time new pins are submitted boosts the probability of getting new products.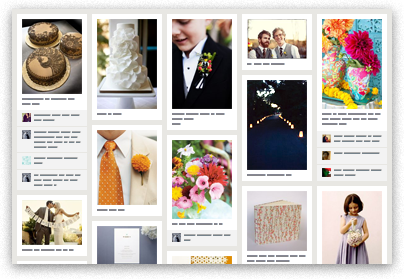 Strategies of boosting your online visibility through Pin Pinterest:
1. Use large pictures: Unless pinterest change their site structure people who submit large images seem to be getting more audiences and re-pins. This is probably because huge or tall photos take up more space thus get noticed faster.
2. Create boards related to your niche: So as to attract the right crowed to your pins thus generate targeted traffic to your site, pin images that are relevant. Have different boards that touch on various topics relating to your industry.
For example, if your area of operation is online home based business, pin on topics that also relay information about how to work offline from home. If you have a site about marriage advice, you can also post picture about wedding gowns and so on.
3. Pin interesting stuff: The dominant element in pinterest is image. Therefore make sure your pictures are engaging, exciting and captivating.
People are generally drawn to images that touch their emotions, add some kind of value to their lives and relate to certain trends. If your images have connotations that relate to human basic needs which are happiness, wealth creation or wellness you will have harnessed 90% of pinterest.
4. Call to action: Since pinterest is all about images the only place to get people to take action is through your images titles. Your titles should sound something like this "How to get started in blogging" or "Guidelines on how to launch your business online".
Make sure that your titles are descriptive to a point of engaging your target audience. You can also make your audience to ask questions by how to phrase your titles.
You will elicit more clicks and re-pins when you pin stuff that seem to benefit your audience. Try to find ways of making your viewers part of what you have posted by telling them what to do using your titles.
5. Optimizing your pin pinterest: The same way you need to optimize your image description file, you should do the same when pinning stuff on your board. Apart from adding keywords in your title, you should also include your keyword phrases in your description.
Here is where you need to be tactful by making sure you optimize your images. Hence, mention your targeted keyword phrases that relate to your pictures.
Note: Your description should be short, preferably not beyond 200 characters. It has been noted that a description which has these number of characters gets better ranking and is more likely to be re-pinned.
6. Include a Pinterest share button on your site: For those who know the value of social media and the viral marketing potential that come with it, have included facebook, twitter, LinkedIn among other social media buttons on their websites and blogs.
In that list of icons, you should also include a "Pin It" button. If you have a wordpress blog, already there are great plugins that can help incorporate the Pin It icon on your web pages.
By the way, even before you open an account on pinterest you can add the button and your visitors that already have accounts can be putting your content and products on their boards. That is the beauty of social media marketing, other people will help you to market your site and products.
7. Do unto others what you would what them to do unto you: This is a simple thing to do but very few people actually implement. People assume when you pin other folk's stuff you are helping them. But did you know in order to get noticed you have promote other people's stuff?
Therefore, tweet, follow, share, +1 and pin others work and they too will return the favor if not now in future.
Bonus: By adding links pointing to sites belonging to influencers will drive traffic to their site thus get to know about you and in the process they will also point back to you. The same applies to pinning and other social media sites.
8. Talk to your friends, colleagues, family and employees: The best way to go viral faster using pin pinterests is by getting the people you know to share your stuff.
Tell your friends, employees and family members to register an account on pinterest and then post your content on their boards. For it to be more effective, show them how to optimize their user profile details so as to connect with the right people.
Conclusion: It is obvious that social media is slowly but surely taking over the internet especially in the area of marketing.
Rather than putting all your eggs in one basket called SEO, which of late has become so frustrating; use social media marketing sites to promote your content and products. This is the best fall back plan in case a new search engine algorithm comes knocking at your door.
Now, apart from +1, tweeting and sharing you can also include pinning it. Get as many channels as possible for people to mention your social activity and you will take your business to the next level.
What are your views about this new kid in the block called Pinterest? Have you included it in your online marketing arsenals? Tell us how its working for you so far in the comment section provided below.
You can get more helpful content on how to market online; enter your email in the section provide in the sidebar or below.
Or click here to subscribe to my RSS feed.
Author: Stephen Kavita